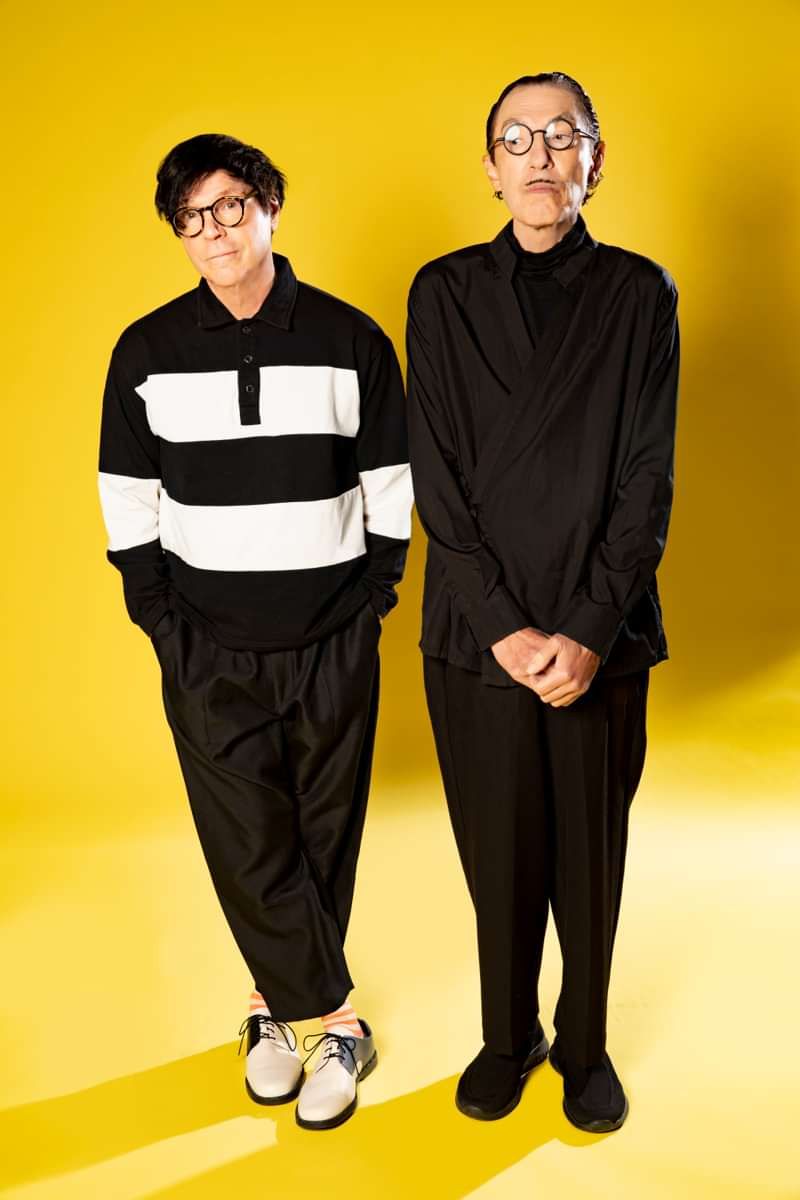 432 presents:
Sparks
Buy Tickets
Levels of interest in the work of Sparks are at heights unsurpassed in their 50+ year career, with the ultimate cult band now centre stage in the full beam of the spotlight.
Most people, with even a passing acquaintance with Sparks, will know the basics by now. How Californian brothers Ron and Russell Mael, both students at UCLA, began making music together in the late Sixties, originally under the name Halfnelson. How their Top Of The Pops debut with "This Town Ain't Big Enough For Both Of Us" stunned a generation and nearly scored them a UK No.1. How their career moved through many phases, including (but not limited to) art rock, glam, big band swing, electro-disco, new wave and synthpop, taking in collaborations with Todd Rundgren, Les Rita Mitsouko, Tony Visconti, Franz Ferdinand and Giorgio Moroder.
How keyboardist and songwriter Ron's intricate staccato arrangements combine with the acrobatic vocals in which Russell delivers his brother's always-on-point lyrics. How Ron's stillness and stern, intimidating visage contrasts onstage with Russell's hyperactivity. How their popularity has spiked unpredictably in different territories at different times: Britain, France, Germany, Scandinavia, Japan, and their homeland the United States. And how the influence of "the greatest band you've never heard of", or "your favourite band's favourite band", has been recognised by successive generations of artists from Joy Division to Duran Duran to Depeche Mode to Bjork to Beck to The Darkness and beyond. Their influence on music cannot be overstated - as super-producer Jack Antonoff recently declared "all pop music is re-arranged Sparks".
Now into their sixth decade of making music, Sparks have never been more relevant.
Once more Top 10 regulars, with studio albums Hippopotamus (2017) and A Steady Drip, Drip, Drip (2020) both reaching No.7 in the UK and receiving global acclaim, the lauded career-spanning documentary film The Sparks Brothers, directed by Edgar Wright (Shaun Of The Dead, Hot Fuzz, Baby Driver) and released in 2021, brought an awareness of Sparks to parts they previously hadn't reached.
Sparks' 2021 film musical Annette, directed by Leos Carax and starring Adam Driver and Marion Cotillard, which almost swept the board in France at that year's César and Lumières Awards with eight wins and seven nominations across the two ceremonies, including the César for Best Original Music, and also fared well elsewhere, with a Golden Globes nomination for Cotillard, and 'So May We Start' shortlisted for Best Original Song at the Oscars. Focus Features have recently announced the studio is developing X-Crucior a musical epic written by Ron and Russell.