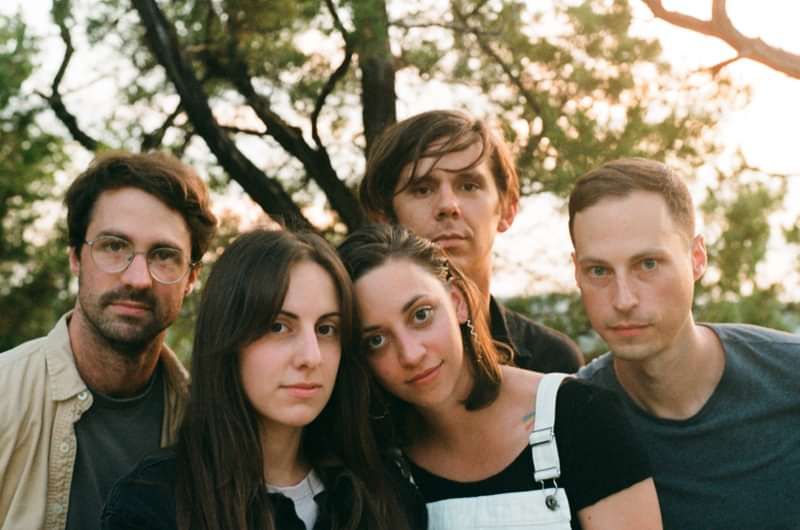 432 presents:
Ada Lea
+ Sun June + Raveloe
£10.50
Entry Requirements: 18+
Montreal's Ada Lea (the moniker of Alexandra Levy) releases a new single/video, "partner," from her forthcoming album, one hand on the steering wheel the other sewing a garden, out September 24th on Saddle Creek. It's the follow-up to previously-released singles "damn" and "hurt." Throughout "partner," Lea sings as if she's bright-eyed during a late night. Her narrative lyrics about an introspective evening unfurls over piano, synth, and a drum machine: "the cab lets me off at the diner // just for memory's sake // and I sit at the same booth // with tears in my eyes // begging won't you admit you're giving up on me too quick." Levy describes it as "a song about moving through a memory… an involuntary memory that steals up on you the night after a rager (which takes place the morning after the song 'damn')." The accompanying cinematic video, directed by Erica Orofino, features Levy as she moves through memories and the city.
"partner" is one of the stories that make up one hand on the steering wheel…As a whole, these tracks chart unavoidable growth that comes with experience. On one hand, it's a collection of walking-paced, cathartic pop/folk songs, and on the other a book of heart-twisting, rear-view stories of city life. The album is set in Montreal and each song exists as a dot on a personal history map of the city where Levy grew up. The city exists as both the location of and a character in many of these songs.
The sounds across one hand on the steering wheel… range from classic, soft-rock beauty to intimate finger-picked folk passages and night-drive art-pop. And the textures are frequently surprising due to the collage of lo-fi and hi-fi sounds that tastefully decorate the album without ever clouding the heart-center of the song. Inspired by personal experience, daydreams, and Elena Ferrante's Neapolitan novels, the lyrics center storytelling on a bigger scale. The experience and emotions of a year are communicated through Levy's vignettes of city life. Her prose is centered in its setting of the St Denis area of Montreal as it draws up memories from local haunts like Fameux, La Rockette, and Quai des Brumes in rearview reverie. Levy creates a balance through the album's year by splitting her songs evenly into four seasons.
---
Somewhere is Sun June at their most decadent, a richly diverse album which sees them exploring bright new corners with full hearts and wide eyes. Embracing a more pop-oriented sound the album consists of eleven beautiful new songs and is deliberately more collaborative and fully arranged: Laura played guitar for the first time; band members swapped instruments, and producer Danny Reisch helped flesh out layers of synth and percussion that provides a sweeping undercurrent to the whole thing.
Throughout Somewhere you can hear Sun June blossom into a living-and-breathing five-piece, the album formed from an exploratory track building process which results in a more formidable version of the band we once knew. 'Real Thing' is most indicative of this, a fully collaborative effort which encompasses all of the nuances that come to define the album. "Are you the real thing?" Laura Colwell questions in the song's repeated refrain. "Honey I'm the real thing," she answers back.
They've called this one their 'prom' record; a sincere, alive-in-the-moment snapshot of the heady rush of love. "The prom idea started as a mood for us to arrange and shape the music to, which we hadn't done before," the band explains. " Prom isn't all rosy and perfect. The songs show you the crying in the bathroom, the fear of dancing, the joy of a kiss - all the highs and all the lows."
It's in both those highs and lows where Somewhere comes alive. Laura Colwell's voice is mesmerizing throughout, and while the record is a document of falling in love, there's still room for her to wilt and linger, the vibrancy of the production creating beautiful contrasts for her voice to pull us through. Opening track 'Bad With Time' sets this tone from the outset, both dark and mysterious, sad and sultry as it fascinatingly unrolls. "I didn't mean what I said," Colwell sings. "But I wanted you to think I did."
Somewhere showcases a gentle but eminently pronounced maturation of Sun June's sound, a second record full of quiet revelation, eleven songs that bristle with love and longing. It finds a band at the height of their collective potency, a marked stride forward from the band that created that debut record, but also one that once again is able to transport the listener into a fascinating new landscape, one that lies somewhere between the town and the city, between the head and the heart; neither here nor there, but certainly somewhere.
Line Up
On a mountain, in a city, in a bedroom, through the window.
facebook.com/raveloemusic
twitter.com/Raveloe2