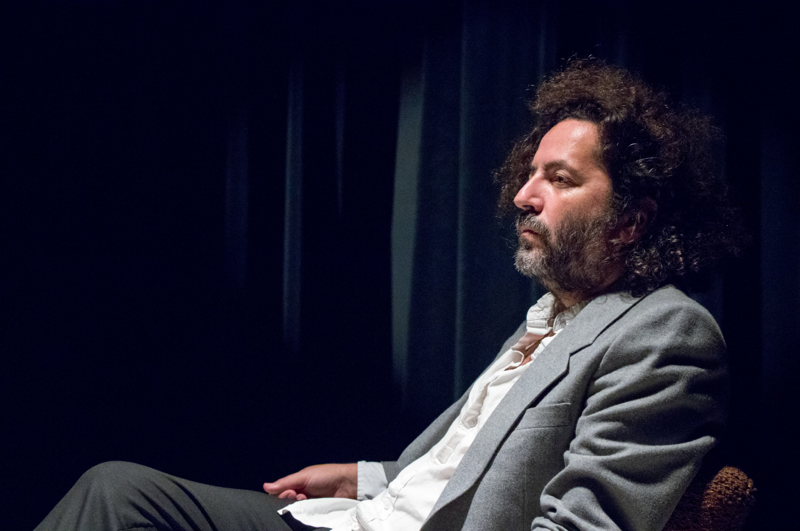 432 presents:
Destroyer
+ Anna B Savage
£17.50
Entry Requirements: 18+
Buy Tickets
Dan Bejar has announced that his thirteenth album as Destroyer, titled Have We Met, will be released on 31st January 2020 via Dead Oceans. To coincide, a London headline show at Village Underground has been announced for 5th May 2020, with more tour news to follow.
Also shared today, you can watch the cinematic David Galloway-directed video to new single 'Crimson Tide' here.
A six-minute journey that sits rightfully alongside previous Destroyer epics, 'Crimson Tide', in typical Bejar fashion, is a melancholy mover. Whisked along by a driving beat, rumbling bass and whimsical piano, it comes as the band's first new song since 2017's Ken.
Speaking on the song's video, director David Galloway explained:
This is a music video about a movie, or for a movie, or really just with a movie. The point is: they love each other. With "Crimson Tide", Destroyer introduces listeners to yet another version of the Bejar Enigma, and ushers viewers to seats in an alternate cinematic universe. The dramatic music video that ties in to film is a lost art. Or maybe it's just a vulgar one. Either way, there are no rotten tomatoes here, only rotten apples.
Have We Met, as Dan Bejar puts it, 'came together in such a crazy way – all equal parts ecstasy and terror'. Initially conceived (but quickly ditched) as a Y2K album, Bejar was without a clear concept in mind. So he said "fuck it" and let it all rip while brainstorming at home.
Culled from years' worth of saved writing, set aside for projects "beyond music," and recorded at his kitchen table, Have We Met harkens back to Kaputt-era Dan stringing together lyrics off hand while lounging on his couch. The resulting vocal sound exists in the sweet spot between two Destroyer worlds colliding: hints of the past, more strident Destroyer mixed in with a relaxed, new-aged Crooning one.
No re-recording. No cleaning up. The Destroyer band-orientated approach was shelved and frequent collaborator John Collins was tasked with the role of layering synth and rhythm sections over a stream-of-consciousness Bejar, as Nic Bragg added 'completely unexpected and somehow comforting' three-dimensional, shredding guitar.
Speaking on the recording process, Bejar explained:
The record could have gone on and on, and the mixes kept evolving up until about a day before we sent them off to be mastered, which was also 48 hours before John and his wife went to the birthing centre, where their first child was born; our true deadline!"
Thirteen albums in, Have We Met manages to meet somewhere between trademarks and new territory – atmospheric approximations of feeling and place, wry gut-punches of one liners, and the deluge of energy meets a thematic catharsis of modern dread, delivered with an effortless, entrancing directness. But, no need to expound any further. He's got it all spelled out for you in the music.
Line Up
Destroyer's Poison Season opens swathed in Hunky Dory strings. Dan Bejar's a dashboard Bowie surveying four wracked characters—Jesus, Jacob, Judy, Jack—simultaneously Biblical and musical theatre. This bittersweet, Times Square-set fanfare is reprised twice more on the record—first as swaying, saxophone-stoked "street-rock" and then finally as a curtain-closing reverie.    Broadway Danny Bejar dramatically switches scenes with "Dream Lover," all Style Council strut and brassy, radio-ready bombast (echoes of The Boo Radleys' evergreen earworm "Wake Up Boo!"). This being Destroyer, its paramours-on-the-run exuberance is judiciously spiked by his deadpan delivery: "Oh shit, here comes the sun…"   Like the other DB, Mr. Bejar has long displayed a chameleonic instinct for change while maintaining a unified aesthetic (rather than just pinballing between reference points). No two records sound the same, but they're always uniquely Destroyer. His latest incarnation often appears to take sonic cues from a distinctly British (usually Scottish, to be precise) strain of sophisti-pop: you might hear traces of Aztec Camera, Prefab Sprout, Orange Juice, or The Blow Monkeys. These songs merge a casual literary brilliance with intense melodic verve, nimble arrangements, and a certain blue-eyed soul sadness.   Playfully rueful, "Sun in the Sky" foregrounds cryptic lyrical dexterity over pop-classicist strum before gradually left-fielding into rhythmically supple, delirious avant-squall. It's as if Talk Talk took over a Lloyd Cole show. Originally released on a collaborative EP with electronic maestros Tim Hecker and Loscil (the latter's drones are retained here), a retooled "Archer on the Beach" suggests Sade swimming in The Blue Nile, smooth-jazz marimba melancholy dilated by ecstatic ambience. Flecked in heady dissonance, elusively alluring, Dan hymns its eponymous "impossible raver on your death bed" while implicitly beckoning the listener: "Careful now, watch your step, in you go."   That's Poison Season in essence: familiar yet mysterious, opaquely accessible. Arch, for sure, but ultimately elevatory.