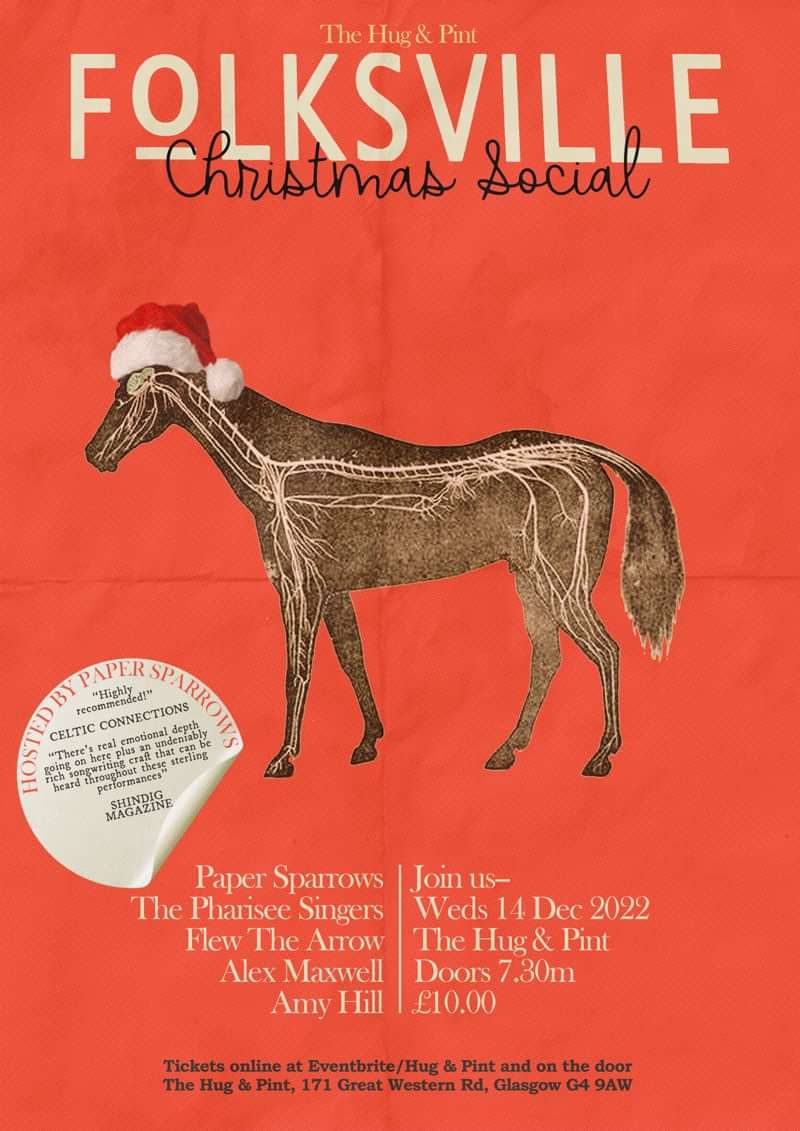 Folksville
+ Paper Sparrows + Flew the Arrow + The Pharisees + Amy Hill + Alex Maxwell
£10
Entry Requirements: 18+
Buy Tickets
Enjoy the authentic sound of the contemporary folk and americana scene!... Into its eighth year, Folksville has become one of Scotland's most endeared live music nights, creating a hub for both established and emerging talent. Previous acts have included Kris Drever, Katherine Priddy and Lindisfarne's Rod Clements.
Edinburgh's favourite folk music night (don't hold it against us, Glasgow!) comes to the Hug and Pint with acts from across Scotland.
To you, we present: Glasgow-based troubadours Flew the Arrow and Alex Maxwell and punks-unplugged The Pharisee Singers alongside Edinburgh-based heartbreak songsmith Amy Hill and your hosts, award-winning folk/americana trio Paper Sparrows.
No strangers to the Hug and Pint, Paper Sparrows return to the venue to host and play at the Glasgow edition of their infamous 'Folksville Christmas Social'. The band performed at this year's Celtic Connections and have heralded rave reviews from as far away as Ely (where they were hand-picked to open the festival this summer). Following the release of their debut 'Sliver EP', Shindig magazine said "There's real emotional depth going on here plus an undeniably rich songwriting craft that can be heard throughout these sterling performances".
Flew The Arrow is the spiritual guise of Lee McGilvray. His contemporary folk, with intricate fingerstyle playing has grabbed attention across the country over the past few years. Flew The Arrow has performed for the Celtic Connections' 'Hazy Recollections' and Danny Kyle stages. Following signing to Electric Honey Records, a new chapter in the flight of the Arrow began as he expanded his sound with a quartet accompaniment creating a soundscape of Cello, Fiddle and Flute. Flew The Arrow "fills the room with warm timbres of his acoustic guitar and a soft voice" (Rave Child).
Folksville isn't your traditional folk club – and that's where Glasgow's 'The Pharisee Singers' come in. They usually perform garage-punk in under the guise of 'The Pharisees' – but thrown away the distortion pedal and manic-ness as they tone down and play as an acoustic 3-piece. As is part of Folksville's mantra, we present to you a band taken from their comfort zone to produce something more fragile and sweet. Akin to folk music teetering on the cusp of early rock'n'roll.
Amy Hill is a Folksville favourite, and has travelled across the country with the club to receive hugely deserved plaudits. Her roots/revival style heartbreak folk songs are backed up by a voice that will have your neck hairs jacked-up. If her songs were a play, it would be about Leonard Cohen meeting Laura Marling over a glass of wine.
Glasgow-via Dumfries's Alex Maxwell is a BBC Introducing badge-holder and 'Alive and Gigging' says "It is easy to see why there are comparisons to bands such as Frightened Rabbit and Fatherson but Alex's songwriting will create its own space in the Scottish Music scene, particularly with tracks like Inaction". What's not to like about that?
Line Up
Paper Sparrows are a 3-piece alt-folk/contemporary folk/Americana outfit.
The band are songwriter and guitarists David Hershaw and Ross Fairbairn and double-bassist Colin Morris. They developed their distinctive twin acoustic guitar style, their arrangements drawing upon the work acts like Bert Jansch and John Renbourn and the modern American artists such as Dave Rawlings and the Milk Carton Kids.
The band were initially a product of Ross's folk club "Folksville" at the legendary Waverley Bar in Edinburgh's city centre. After inviting David to play the club, the pair shared several pints of Guinness and agreed to meet for a song-writing session. Following several hours of procrastination and musical dead ends, a last gasp moment of inspiration rescued the band in its infant state with the surprisingly effortless composition of their first song "Sunday Shoes". The decision to invite Colin to join shortly after seemed obvious, given his natural talent and intuitive musicianship.
The group are the hosts and house band for Folksville, which has become a hub for musical talent in the city.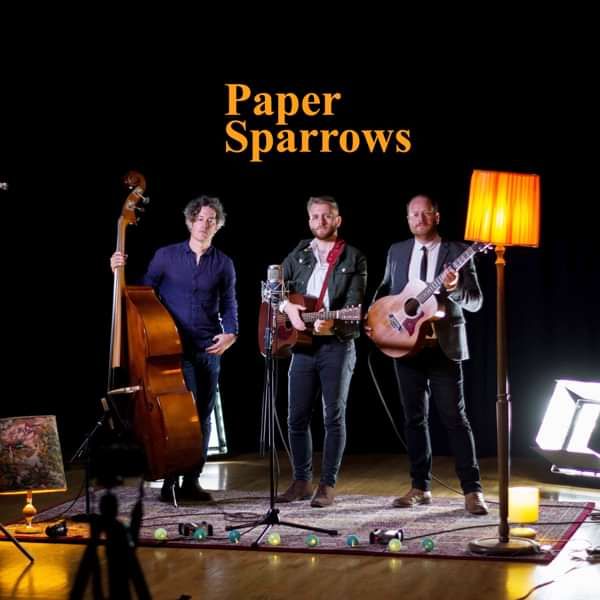 Amy is a 23 year old musician born in the Borders and now based in Edinburgh. Her debut EP 'Getting Ready for a Swim' was released in April last year, alongside her friend and fiddle-player Cameron Newell. Her music reflects the influences of the folk artists that she grew up listening to, as well as the nature she has spent her life surrounded by.
Recent gigs with Sofar Sounds, Living Room Gigs Edinburgh and Folksville.