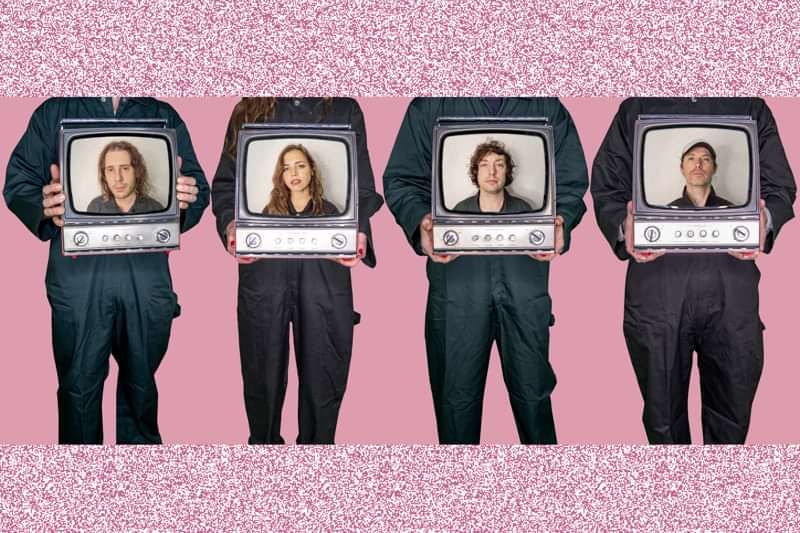 Beach Riot
+ The Party Slogan + Red Vanilla
£7
Entry Requirements: 18+
Buy Tickets
Beach Riot were born when guitarist/vocalist Cami Menditeguy made the decision to up-sticks and move halfway across the world to East London from her home country of Argentina at just 18. Desperate to front her own band, living on a remote horse farm alone was no longer an option; so, to raise funds for the move, Cami made her flight money by gambling on horse races. Meeting fellow guitarist/vocalist Rory O'Connor at a show in East London—and finding a shared love for ice-cream, weird guitars, PJ Harvey, Mudhoney, 4am mozzarella sticks, dark comedy, dungeons and dragons, and Brighton beach hangover fry-ups—at last Beach Riot were born, and the gamble had paid off. The band released their self-titled debut EP Beach Riot in 2018, with a string of standalone singles 'She's A Hurricane' (2017), 'Serial Scruff' (2018), 'Robot' (2019) and 'Stuck Inside' (2019) keeping momentum and buzz around the band's potent blend of lo-fi drone rock, heavy riffs, and indie pop. Following the bands signing to Alcopop! Records in early 2020, Beach Riot have gone on to release a number of singles, and are currently recording their Debut Album due for release June 2021
Line Up
We make lots of pop fueled noise. We have loads of fun doing it. We care about equality. No one needs another lad band. We ram out shows and go nuts. We are akin to the band next door, rock stars not welcome 🤘
We've spent our first year playing live everywhere, playing reading and Leeds, playing sound city and tramlines, but WE WANT MORE! Debut EP out 7/12 on coloured vinyl.
Clash/the independent/the 405/louder sounds/fresh on the net/bbc introducing, and many more have been lovely to us xxx
Check out our Spotify and soundcloud for our music 😍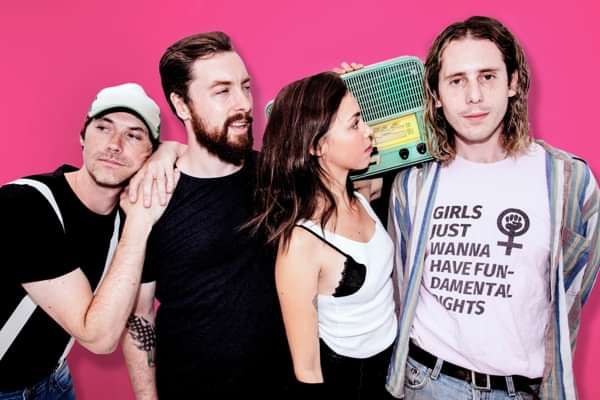 The Party Slogan are an unsigned Edinburgh based 5-piece band, formed over a shared love of bands emerging from the post-punk era and combining that love with some electronic/pop influences, they create a sound reminiscent of The Cure, The Fall and New Order. Formed in 2016, the band went through numerous line-ups before settling on its current state where they have recorded a number of singles and a full length EP, "Reasonably Good Indie Music". The band plan to continue releasing as much music as possible in the coming years and only show signs of more ambition in their performances and recordings. The next step for The Party Slogan is to broaden their parameters for playing live by getting onto the festival circuit around the UK.
*Upcoming Gigs; *
Live Review:
The Modern Record - *"With some cracking songs such as Addiction, A Week In The Sun and Good Thing Going On, I doubt it will be very long before we see this young band hitting the bigger stages."
Music Review:
Heard Not Herd - Young Edinburgh upstarts The Party Slogan have been on our Ones To Watch radar since we clocked them live at the Westfest BOTB in Kirkcaldy earlier this year. Their debut EP "Reasonably Good Indie Music" surpassed it's name as it contained 4 energy fueled bangers. New single "The Man I Would Hate To Be" is out today and is full of promise. Another slice of guitar and bass driven pop/rock which underlies the understated vocals. Also bravo on the segue from the indie rock into a piano section that closes the song. Great stuff
KCR 107.7 FM – A Week In The Sun/Good Thing Going On: "The Party Slogan were kind enough to let KCR 107.7 FM have an early listen to these two great songs and we were delighted to be allowed to play them on The Musical Box, they more than meet the show strapline of Unsigned, Unknown, or just deserving Airplay. Get the single for your collection – you'll come back to these songs; we know that we will....."
Previous Events:
Gigs:
Box, Glasgow 13 January 2018
The Mash House, Edinburgh supporting High Tyde 18 February 2018
Ivory Blacks, Glasgow 25 March 2018
Sneaky Pete's, Edinburgh 27 March 2018
Sneaky Pete's, Edinburgh 25 April 2018
Box, Glasgow 10 May 2018
The Wee Red Bar, Edinburgh 12 May 2018
CC's Cavern, Paisley 18 May 2018
Sneaky Pete's, Edinburgh 2 June 2018
Brig Below, Edinburgh 8th Sep 2018
Bannermans, Edinburgh 14th Sep 2018
Bannermans, Edinburgh 24th Nov 2018
BLOC, Glasgow 15th January 2019
Leith Depot, Edinburgh 30th January 2019
WestFest Battle Of The Bands, Kirkcaldy 22nd February 2019
Box, Glasgow 23rd March 2019
Sneaky Petes Fresh Produce Gig Night, Edinburgh 5th April 2019
The Village Pub Leith, Edinburgh 3rd May 2019
The Mash House supporting Bright Skies, Edinburgh 4th May 2019
The Barrels Ale House, Berwick 11th May 2019
The Mash House supporting Shambolics, Edinburgh 8th June 2019
13th Note, Glasgow 6th July 2019
Bannermans, Edinburgh 25th July 2019
The Cow Shed, Edinburgh 8th August 2019
The Cow Shed, Edinburgh 22nd August 2019
Leith Depot, Edinburgh 7th September 2019
Room2, Glasgow 4th October 2019
Tooth&Claw, Inverness 26th October 2019
Teviots Student Union, Edinburgh 14th November 2019
Cuckoo's Nest, Edinburgh 23rd November 2019
Stereo, Glasgow - 23rd January 2020
Leith Depot, Edinburgh - 28th January 2020
Queen Margaret Student Union, Edinburgh - 13th March 2020
Airplay:
Mearns FM
CamGlen Radio
Links Radio
KCR FM
Black Diamond FM
The Third Class Ticket Radio Show podcast
Air3 Radio
Belter Radio
Way Out Radio
Amazing Radio
Radio Wigwam
XRP Radio
Valley FM
Pulse Community Radio
Rock Sport Radio