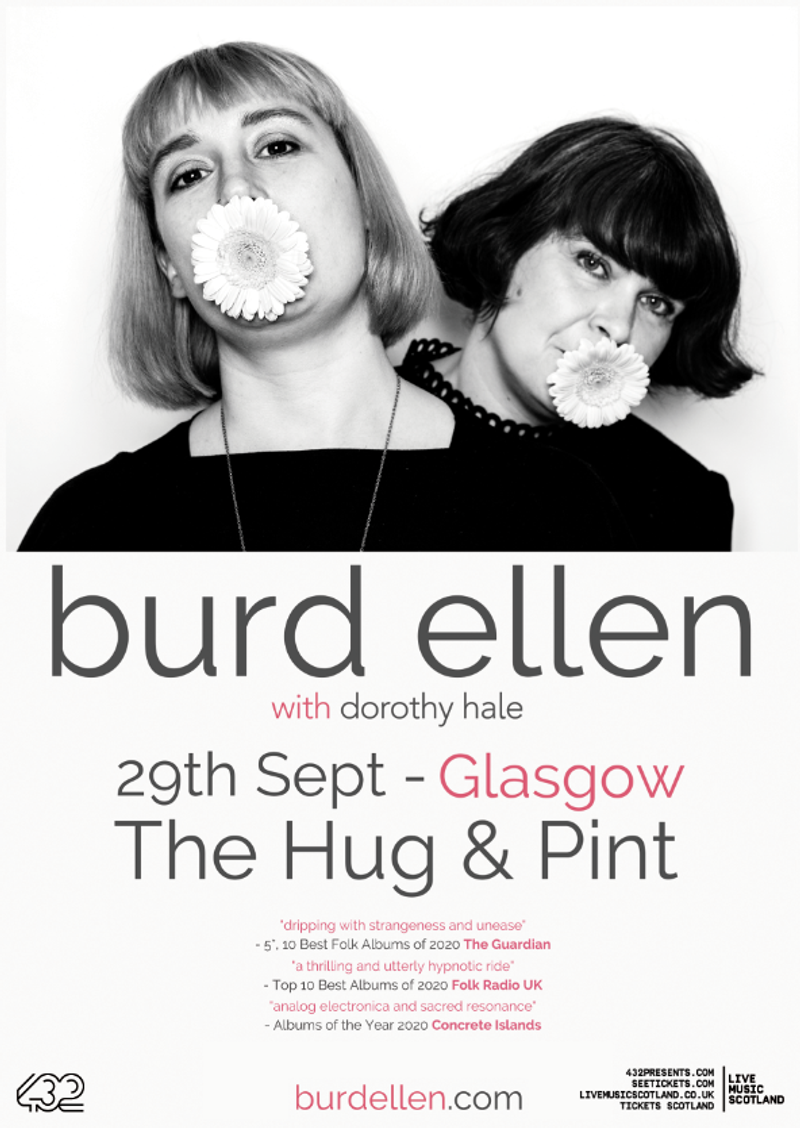 Burd Ellen
+ Dorothy Hale + Peel's Myth
Burd Ellen is a project featuring Debbie Armour (Alasdair Roberts, Green Ribbons) and Gayle Brogan (Pefkin, Electroscope). The group uses traditional song to explore and evoke dark landscapes and deep stories. Innovative instrumentation, drone and sound-wash to support detailed vocal work to create a unique sonic atmosphere.
They self-released their debut album silver came in Feb 2019. A record exploring women's narratives in British folk song, silver came investigates ideas of persistence, defiance, devotion and transformation.
Their second album, says the never beyond, is a collection of carols and wintersong that occupy the liminal space between sacred and secular, connecting to the deep seasonal traditions of Britain and Ireland. They have continued their long-term collaboration with Jer Reid (Sumshapes, Glasgow Improvisers Orchestra), bringing him out from behind the studio desk to play guitar on most of the tracks. The album also features contributions from Scottish Album of the Year Award nominee Rachel Newton (The Shee, The Furrow Collective) and Luke Sutherland's (Long Fin Killie, Mogwai) current project Rev Magnetic. The record was critically very well received, finding it's spot in the top 10 of 2020 for many publications including The Guardian and Folk Radio UK. ​ burd ellen are carving out a sonically adventurous niche, but one that is informed by a deep love and respect for traditional song. ​ "dripping with strangeness and unease" - 5*, The Guardian (Top 10 Folk Albums 2020)​ "a thrilling and utterly hypnotic ride" - Folk Radio UK (Top 10 Albums of 2020) "the idea of Burd Ellen is to discover new ways to explore the British folk tradition and this record certainly accomplishes that ... haunting" - The Wire Magazine "a kind of front-room, palm-sized form of Penederecki, Branca, or early Swans" - Rock and Roll Globe (Best Artists of 2020)
Useful links:
burdellen.com burdellen.bandcamp.com
YouTube Links: Cutty Wren - https://www.youtube.com/watch?v=cYVHgdTj_wI Chi Mi Bhuam LIVE - https://www.youtube.com/watch?v=uwW351GB4Mg&list=PL0Btr5efiOJlkop5U5Qpb6u888LZVD65E&index=1
Guardian Review: https://www.theguardian.com/music/2020/dec/04/burd-ellen-says-the-never-beyond-review-debbie-armour-gayle-brogan Guardian Best of 2020: https://www.theguardian.com/music/2020/dec/22/the-10-best-folk-albums-of-2020?fbclid=IwAR3v_LIGI-xXRWHJQOq2Gb1lX-8C4dvuaHk4tY6-WKhBvAXkBDhlFLB_ygw
Concrete Islands Interview: https://concreteislands.com/leaning-into-the-spaces-burd-ellen-interview/
Line Up
Dorothy Hale is a three-piece from Glasgow, Scotland, naturally drawn to making music of the dreamy kind. They formed in late 2017 and have played gigs mainly around Glasgow. It's Laura on vocals/lyrics, Wiggy on bass/backing vocals and Fred on guitar/synth using a drum machines for beats.
"Broken Bubble" is a pounding dream pop workout. Soaring along on waves of washed-out feedback, synths and the most amazing in-your-face bass, this song catches your attention immediately. It's Laura's vocals that steal the show here. Angelic and devilish at the same time, she absolutely owns this song.
The band is currently hard at work on new recordings so keep your eyes and ears peeled, because you won't want to miss what comes next for Dorothy Hale.