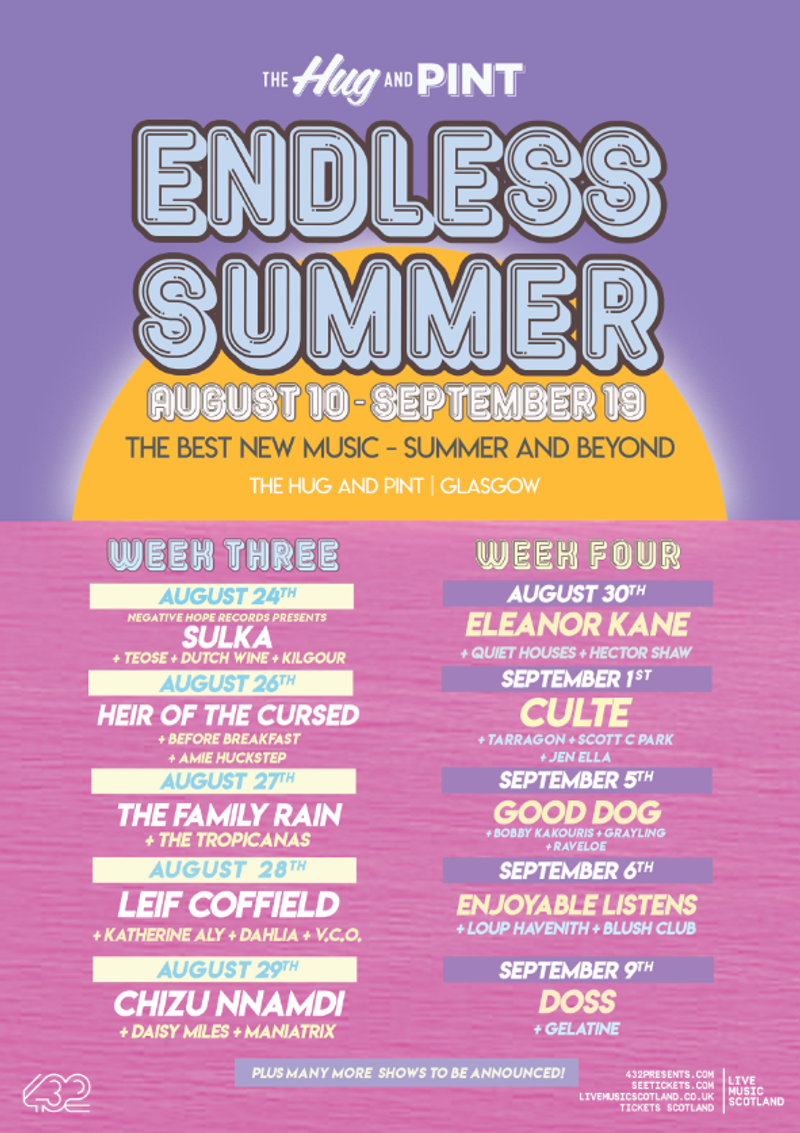 Endless Summer: Eleanor Kane
Eleanor Kane + Quiet Houses + Hector Shaw
£7
Entry Requirements: 18+
General Admission (e-ticket)
Please select the artist you are coming to see. All tickets are valid for the full show.
A celebration of live music and the best new artists in Scotland.
The Hug & Pint, 10th August - 19th September 2021
Line Up
Quiet Houses are a Manchester based indie-folk duo made up of Hannah Elliott (vocals, violin, keyboards) and Jamie Stewart (guitar, vocals). After forming in early 2018, the pair started writing songs rooted in the wistful folk sound-world of Laura Marling and Fleet Foxes and the quirky lyricism of indie songwriters Courtney Barnett and Kurt Vile. In December 2018, they began recording their debut 5 track EP, 'Armchair Tree,' with up-and-coming producer Karl Ziegler. They celebrated its release by performing to a packed out room at The Castle Hotel, Manchester, on the 29/05/19. The EP has over 17,000 streams times on Spotify and 'The Gallery' was played on BBC 6 Music as part of 'The Tom Robinson Show'. The duo perform regularly in Manchester venues such as Soup Kitchen, Jimmy's, The Whiskey Jar and at Night and Day Café, both as a pair and with a band. At Night and Day Café they were spotted by Ryan Paul who played their single 'The Gallery' on BBC Introducing later that week, remarking that the duo's performance had "blown him away." Their lates single "What do you Want for Your Birthday?" was released on 18/10/19, and was featured on Tom Robinson's BBC Introducing mixtape.