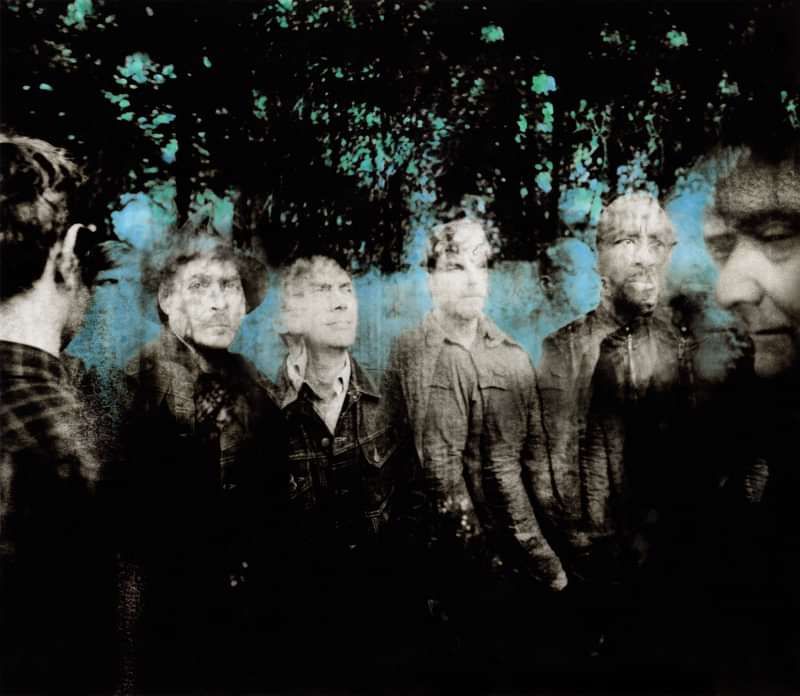 432 presents:
Tindersticks
£27.50
Entry Requirements: Over 14s (U16s accompanied by an adult)
Buy Tickets
NEW DATE - WEDNESDAY 17TH FEB - THE OLD FRUITMARKET, GLASGOW
Please note this show has been rescheduled from Edinburgh's Queen's Hall from 17th May 2020. All tickets remain valid.
New album No Treasure but Hope out now via City Slang to press acclaim
Five-month tour begins in January 2020
Watch a live in-studio video of "For The Beauty" here
Tindersticks released their stunning new album No Treasure but Hope to a swathe of press acclaim. Today the band announces a show in Edinburgh's Queen's Hall on Sunday 17th May. The show goes on sale Wednesday 4 December @ 10am. Tindersticks will begin a five-month long tour in January in support of No Treasure but Hope with dates in Europe and the US already starting to sell out.
For their first album in three years, Tindersticks' Stuart Staples felt the band needed to do something different. Eschewing their typically lengthy recording process, for No Treasure but Hope, the band recorded the album in five days and had a mastered album in just over a month. "Five weeks from the first notes recorded to the mastering," marvels Staples, reflecting on a stretch that included acoustic rehearsals around a piano, six days playing live in a Paris studio and one day in London to record strings/brass. Rich in intuitive warmth, lush melodies and an inquisitive spirit, it's an album that casts a fresh light on Tindersticks' core qualities, bathed in the glow of a band intent on rediscovering what they can do.
No Treasure but Hope has been met with outstanding press reviews including:
"Musically compelling… 'Pinky in the Daylight' is a glorious love song… It's all rather lovely and yields it's loveliness slowly, like a drip." -The Guardian (4-Stars)
"Tindersticks are proving masters of evolution… The exquisite 'Take Care In Your Dreams' is so delicate it almost floats away while the outstanding 'See My Girls' bounces along, part modern-day madrigal, part Leonard Cohen's Jazz Police." -MOJO
"Songs of substance… Their ability to dissect human nature against a soundtrack of intricate musical drama has rarely dipped." -Q (4-Stars)
"Reveling in the existentialism and singularity of being human." -Aquarium Drunkard
"One of my favorite bands." -Ann Powers, NPR Music
"It's sweeping, cinematic stuff — Powell & Pressburger's deep hued technicolor, with Godard's attitude and Lynch's unease." -BrooklynVegan
"Florid and dreamlike… A rich swirl of music… The diminution of the darker aspects of their sound has made it no less striking." -Financial Times (4-Stars)
"Largely recorded in Paris, it adds breeziness to the bleakness on 'The Amputees' and delivers a gorgeous rumination on shattered love in 'Carousel'. -Uncut (8/10)
"Ten tracks of wistful melancholy and swooning arrangements. At once beautiful and fragile, the best late–night collection you'll hear this year." -HiFi Choice (5-Stars)
"A record of rare beauty which should be treasured by all who hear it." -Record Collector (4-Stars)
"Stylish and romantic… For almost three decades Tindersticks have carved out a singular style: a touch of French chanson, a bit of Nick Cave's gothic intensity, a smidgen of Scott Walker's gloomy lushness, creating the musical equivalent of an Ingmar Bergman movie." -The Times (UK)
"In troubled times, there's something comforting about the languid loveliness of a Tindersticks record… Their first long player in three years finds singer Stuart Staples in imperious form, from the becalmed opener 'For The Beauty' via the sumptuous, orchestrated 'Pinky In The Daylight'… An understated delight." -The Sun (4-Stars)
"Stuart Staples' band are masters of melancholy but album 12 does display a lightness of touch… A trilogy of songs inspired by parenting, including the outstanding father and son sage of 'The Old Man's Gait', underlines how seriously Tindersticks take their calling." -The Mirror
Tindersticks 2020 Tour Dates Jan 29 – Gent, BE – NTG - SOLD OUT Jan 30 – Gent, BE – NTG - SOLD OUT Jan 31 – Paris, FR – La Salle Pleyel SOLD OUT Feb 2 – Brighton, UK – The Dome Feb 4 – Berlin, DE – Berliner Philharmonie Feb 7 - Hljómahöllin Reykjanesbær, IS - Stapi, Hljomaholl Feb 9 - Helsinki, FI – Savoy Theatre Feb 10 - St Petersburg, RU - Morze Club Feb 11 - Moscow, RU - Vegas City Hall Feb 13 - Thessaloniki, GR - Thessaloniki Concert Hall Feb 15 – Istanbul, TK – Is Sanat Culture Centre Feb 17 – Faro, PT – Teatro Das Figuras Feb 18 – Lisbon, PT – Aula Magna Feb 20 – Leiria, PT – Teatro Jose Lucio da Silva Feb 21 – Coimbra, PT – Convento Sao Francisco Feb 22 – Porto, PT – Casa Da Musica - SOLD OUT Feb 23 – Vigo, ES – Auditorio Abanca Feb 25 – Barcelona, ES – Palau de la Musica (Festival Mil-Ienni) Feb 27 – Rennes, FR – TNB - SOLD OUT Feb 28 – Nantes, FR – Le Lieu Unique Feb 29 – Nantes, FR – Le Lieu Unique Mar 1 – La Rochelle, FR – La Sirene Mar 3 – Fouesnant, FR – L'Archipel - SOLD OUT Mar 4 – Herouville, FR – Comedie de Caen Mar 5 – Evreux, FR – Le Tangram Mar 6 – Orleans, FR – Astrolabe Mar 7 – Arras, FR – Tandem Mar 9 – Besancon, FR – La Rodia Mar 10 – Grenoble, FR – La Belle Electrique Mar 11 – Nimes, FR – Paloma Mar 12 – Toulouse, FR – Metronum Mar 13 – Bordeaux, FR – Le Pin Galant Mar 14 - San Sebastian, ES - Teatro Victoria Eugenia Mar 28 - Knoxville, TN - Big Ears Festival Mar 30 – Chicago, MA – Thalia Hall (on sale Nov 29) Apr 1 – Brooklyn, NY - Murmrr - SOLD OUT Apr 2 - Brooklyn, NY Murmrr Apr 18 – Bochum, DE – Schauspielhaus Apr 19 – Munich, DE - Prinzengententheater Apr 20 – Hamburg, DE – Laeiszhalle Apr 22 – Oslo, NO – Sentrum Scene Apr 23 – Stockholm, SE – Dramaten Apr 24 – Gothenberg, SE – Storan Apr 25 – Copenhagen, DK – Vega - SOLD OUT Apr 26 – Copenhagen, DK – Vega Apr 28 – Brussels, BE – Ancienne Belgique - SOLD OUT Apr 30 – Genk, BE – C Mine May 1 – Rotterdam, NL – De Doelen May 2 – Utrecht, NL – Tivoli Vredenburg May 3 – Groningen, NL – Oosterport May 5 – Geneva, CH – Alhambra May 6 – Winterthur, CH – Casinotheater May 7 – Ljubljana, SL – Kino Siska May 8 – Belgrade, RS – Kombank Dvorana May 9 – Vienna, AT – Akzent Theatre May 10 – Vienna, AT – Akzent Theatre May 22 – London, UK – Royal Festival Hall May 24 – Dublin, IRL – National Concert Hall
Order No Treasure but Hope here.