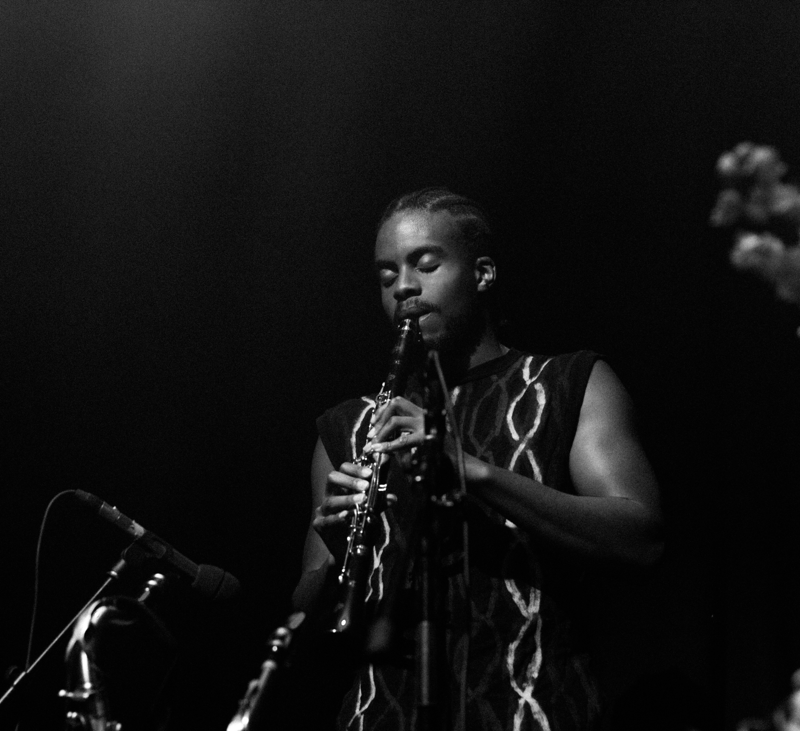 Glasgow Jazz Fest: cktrl
£14
Entry Requirements: 18+
Buy Tickets
Distilling waves of influence and experience down to a fine essence, cktrl brings an all the more potent and pure vision into focus – one that continues Bradley Miller's passionate celebration of Black artistry, and builds on his raw musicianship and emotional verve. Yield, his forthcoming EP, is testament to the multiplicity of a singular, compelling artist with an ever-evolving view of the genres he defies, the classical music landscape he interrogates, and the closely held emotional themes he phoenixes from.
'Yield' – what roots and blooms in your mind when you hear the word? After grief and heartbreak, Miller set out to find solace in new perspectives. This word came first, and gave him the title of his five-track EP which is due to release autumn 2022 – a time of harvest and cultivation. He asked friends and family for their own definitions of 'yield', and found two binary ways of thinking. "When I asked more European friends, they tended to think of submitting," he explains. "Friends like me, of the diaspora, described it as a harvest."
"I see 'Yield' as a barometer for your highest and lowest vibrations," he continues. "To yield is to surrender to any situation you're in and to cultivate the best from yourself, whatever your environment."
Having garnered considerable acclaim for EPs Robyn (2020) and Zero (2021), Bradley Miller again announces himself as an incomparable musician, composer, producer, and curator. It is all with an innate ability to translate his perspective into emotive music. "Robyn felt like my truth," Miller says, "Zero brought together some of the songs I'd been sitting on for a long time, that I felt needed to be put out into the world to build back my identity as a musician and producer."
"Yield is an honest body of work that brings together new life shit and growth. As I feel I know what I want, and know what I don't want – that's the best thing about getting older. I have the confidence to ask questions. The purpose of why I'm doing things has gotten stronger. I know now what my voice means and why I'm saying and making what I am. It's intentional. Loaded with integrity."
The Lewisham, South London musician has long crafted his own space with this purpose, and since first picking up the clarinet and saxophone as a child and his 2015 debut, the clubby, chugging Forest, he's hopscotched moody R&B to rumbling club beats and honeyed jazz, to the sensual orchestrations of today. He has faced head-on the classical scenes that sideline Black artists, while saluting elements of his Caribbean heritage and time bolstering London's musical underground with NTS and Touching Bass, building his label Songs 4 Girls.
His self-awareness and commitment to innovating is striking – as he put to CRACK magazine, "Do I have anything to say?' Is there a purpose to this or am I just flexing?". Yield is an exhilarating departure from his previous work, but continues to refract deeply personal experiences into expansive themes – heartbreak, commitment issues, expressing emotions in ways that inflict pain on others. "Karmic energy", he says. "Remorse. Guilt. Forgiveness. I think about that phrase – 'you're not as bad as your worst mistake, it doesn't define you '."
"Yield is much more meditative," he explains. As an intentionally instrumental project with minimal vocals, he asks that listeners see the instrumental introspective songs as "guided meditations". While Miller steadies his foothold with classical and baroque musical elements, with influences from modal jazz of the pre-electric age, there's also strong R&B sensibilities in the sonics and intentions. "People turn to old records for comfort. A tenderness. I don't think that's the style of much contemporary music. I want people to feel held."
His skills are brought even more to the fore – saxophone runs that swirl the butterflies in your stomach, lilting piano that evoke the lasting glimpse of a lover, intoxicating clarinet-led melodies. "Note" vibrates with celestial harps, and the breathy saxophone intertwines with aching vocals to crest and fall like waves on "Lucidly". "There's beauty and power in sampling older works, but I want to celebrate raw orchestration." Parts were recorded in Kingston, Jamaica as well as his South London home. Some were made as recently as a few months ago – the last track was recorded live at Hackney's EARTH venue. Others are from his archive: the main body of "Night I Pine" was laid down at 4AM in my friend's Los Angeles apartment in 2016. "I found the project file last year on my harddrive. I can hear us fall asleep at the end. I took the demo, put a new saxophone line over it, added vocals," he recalls. "It's liberating to know I have the range to make things better. Now I can think, 'rahhh, that's hard!'."
With new skills comes renewed purpose. "I felt a pressure when I was younger to show my whole hand, but I've learned restraint," he says. Yield thoughtfully brings together several familiar collaborators – Roxanne Tataei, Ahya Simone, Ophie (Songs 4 Girls). The loose and lush experimentation of D'Angelo's Voodoo is a reference point. "Restraint and free-flowingness has revealed more of my own sense of musicianship," Miller says. "Again, intentional. Yield could have been so maximalist." The processes for Zero and "mazes" taught him the art of impact: "when to hit and when to pull back. That feels more special than throwing in everything I've got."
Miller remains dexterous – considering visual identity, he cites Barry Jenkins' neon-soaked Moonlight and If Beale Street Could Talk. He plans to do more film scores, contribute to others' albums, and soundtrack fashion shows and commercials. He percolates in the fashion and visual worlds – soundtracking Indian-Nigerian designer Priya Ahluwalia's A/W21 presentation film, collaborating with the likes of Tremaine Emory 'Denim Tears' and Ib Kamara, and appearing in Beyonce's Black is King. Miller is at the epicentre of Britain's Black cultural renaissance, working with a network of creatives from Bianca Saunders to Saul Nash and Campbell Addy. He is also starring and composing for director Ella Ezeike's forthcoming short film, Words We Don't Say. With a wider perspective, Miller hopes to get his works on the school music syllabuses for clarinet and saxophone, with help from The Black Curriculum. "It's always going to be important for young Black kids to see their likeness in art," he says.
From his expansive and varied catalogue, Miller feels truly free in the directions he can take a future debut album. "It can be anything I want it to be," he says. "I could beef up the R&B, focus on jazz, come back to the club or the energy of my Boiler Room or NTS show, go live. I don't have to be safe. I love the freedom."