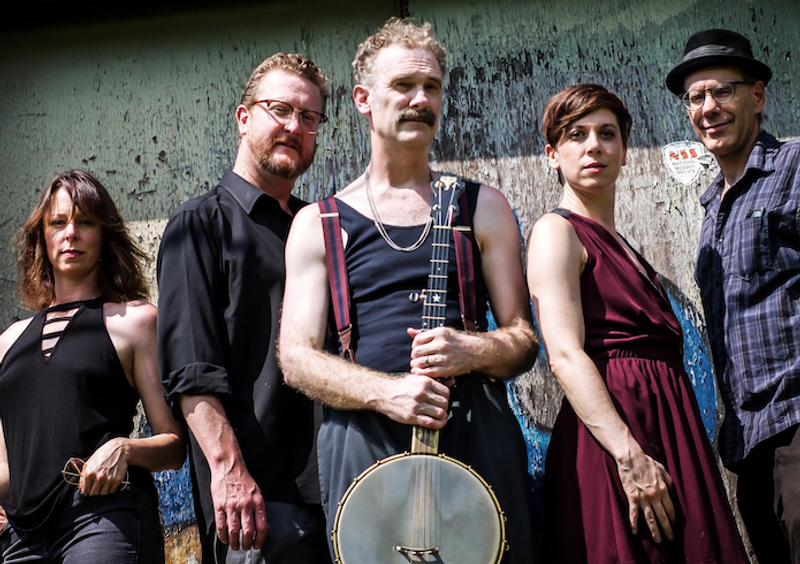 West End Festival: Curtis Eller's American Circus
+ Scunner + Les Johnson and Me
£8
Entry Requirements: 18+
Buy Tickets
Curtis Eller's American Circus: "Curtis Eller is a banjo player, songwriter and rock & roll singer. A twenty-year show business veteran, Eller and his band The American Circus have developed a devoted international following based on dynamic, highly physical stage performances and an catalog of curious phonographic recordings. The iconoclastic musician has spent more than a decade relentlessly touring the club, theatre and festival stages of a dozen countries in North America and Europe.
Eller is a gifted and prolific songwriter who's banjo-driven songs describe a dreamlike vision of American history where all points in time have collapsed into one. This June The American Circus will embark on a tour of the UK in support of their forthcoming, full-length album, "A Poison Melody". This ambitious new recording finds the band augmenting their indelicate, rock & roll rhythms with a tempestuous cloud of horns and an graceless choir of backsliders in their quest to bring Eller's historically evocative compositions to vivid, cinematic life."
Pertinent Websites: Official webiste: http://curtiseller.com Bandcamp: http://curtiseller.bandcamp.com Facebook: http://facebook.com/curtisellermusic Instagram: http://instagram.com/curtisellermusic
Curtis Eller's American Circus "The Murder Barn Session": https://www.youtube.com/playlist?list=PL0k6m0d0CGRUPnHEA39A-Oh6LI3a91FO8
Scunner: Glasgow electric music hall rapscallions, Scunner have been peddling their sinister fairground wares since 2004. A colourful and energetic bunch, who know how to put on a show! Purveyors of Vaudeville Pop or 'Cabarock', the band are celebrating 15 years of existence with all manner of exciting things, prepare to be Scunnered!
https://www.facebook.com/scunner.band/ https://www.instagram.com/scunnerband/ https://soundcloud.com/scunner-glasgow
Les Johnson and Me: "Somewhere between gentleman Jim Reeves, Johnny Cash and Tennessee Ernie Ford with a distinctly Glaswegian twang. LES JOHNSON & ME, THE BRAINCHILD OF ONE KENNY MACDONALD, PERFORM SONGS OF AN EFFORTLESSLY TIMELESS NATURE. OFTEN BACKED BY A SELECTION OF THE WHO'S WHO OF THE WHAT'S WHAT OF GLASGOW'S UNDERGROUND ROOTS SCENE (INCLUDING THE SHIVERIN' SHEIKS, AWKWARD FAMILY PORTRAITS AND HARRY & THE HENDERSONS) AND LED BY KENNY'S UNMISTAKABLE SIGNATURE BARITONE. TAKING INFLUENCE FROM A SPECTRUM OF SOUNDS FROM SUN ROCKABILLY, BLUEGRASS, SCOTTISH TRADITIONAL AND CHURCH HYMNS TO NASHVILLE POP, DOO-WOP, RAGTIME, AMERICANA AND CALYPSO.
HTTPS://WWW.FACEBOOK.COM/LESJOHNSONANDME/ HTTPS://LESJOHNSONANDME.BANDCAMP.COM HTTP://WWW.HOLYSMOKESRECORDS.COM
Line Up
West End Festival: Curtis Eller's American Circus