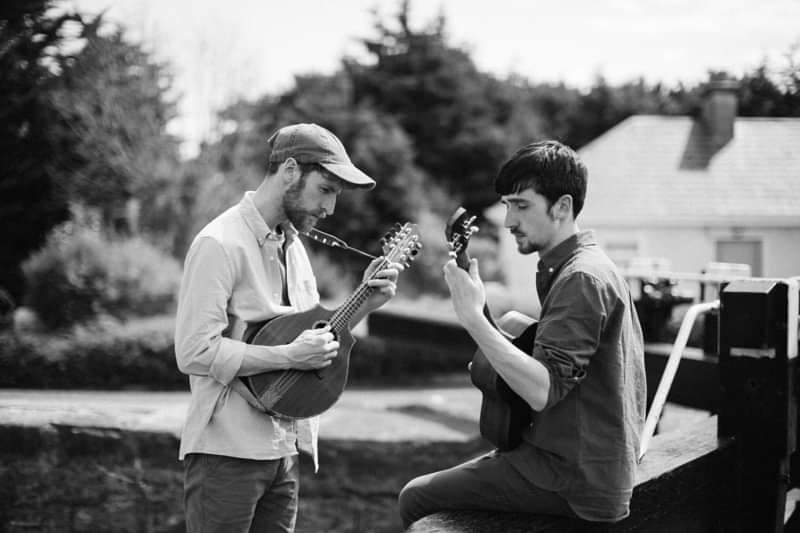 432 presents:
Ye Vagabonds
+ Joshua Burnside
Buy Tickets
** 2019 BBC Best Traditional Track - WINNERS ** ** 2019 RTÉ Best Traditional Track, Best Group, Best Album - WINNERS**
Brothers Brían and Diarmuid Mac Gloinn grew up playing music together around their hometown of Carlow, a small town in the southeast of Ireland. After moving to Dublin in 2012, they quickly became a staple of the live music and session scene in Ireland, playing their own original songs as well as folk songs from Ireland, Scotland, England and America. In 2014 they came to the attention of Arbutus Yarns' music filmmaker Myles O'Reilly, whose videos gained international attention for the brothers for the first time.
After a chance meeting at Electric Picnic in September 2015, the brothers performed onstage with Glen Hansard, who invited them to open for him on his European tour the following October. Their debut EP Rose & Briar was released on October 7th 2015.
Since then, they have been busy touring Ireland, the UK and Europe, opening for acts such as Villagers, Roy Harper and Lisa Hannigan (whose band they played in for her Irish tour, June 2016). They have played sold out headline shows in Ireland, France, Switzerland and the UK.
They have made numerous television and live radio appearances in Ireland, and were also part of 'Imagining Home', a live broadcast concert in the National Concert Hall of Ireland, 2016, curated by Glen Hansard, Philip King and Gary Sheehan. In October 2017 they launched their debut, self-titled album to great acclaim. "Ye Vagabonds" comprises of harmony rich folk music, influenced by Irish traditional music, Appalachian singing, and the 1960's folk revival. It includes ten mellow tracks weaved with thoughtful lyrics, thickly layered with strings and droning harmonium.
Their second album 'The Hare's Lament' was released on 22nd March 2019 to huge critical acclaim. In 2019 they won the BBC Radio Two Folk Award for Best Traditional Track, and they swept the boards at the RTÉ Radio One Folk Awards where they won Best Traditional Track, Best Group, and Best Album.
A long-awaited EP came out on January 22nd 2020 featuring two tracks, again released on Rough Trade Records' imprint River Lea, and an album follows in late 2021/early 2022.
Line Up
'Rumbling, brooding, powerful, magnetic' - The Irish Times
Joshua Burnside is an experimental folk artist based in Belfast, and the most recent recipient of the Northern Ireland Music Prize for his debut album 'EPHRATA', released last year. The album was highly praised by the The Sunday Times, Irish Times, State and The Thin Air as well receiving huge support from BBC 6 Music DJ's Lauren Laverne, Tom Ravenscroft, Guy Garvey, and BBC Radio 1's Phil Taggart and Huw Stephens.
EPHRATA has been praised for lyrics which blend local history with surreal imagery and apocalyptic themes, as well as the fusion of south american rhythms with traditional Irish melodies and instrumentation.
A political satirist is assassinated, two shellshocked siblings hallucinate a zombie apocalypse, and a terminally ill physics professor turns to god, these are the kind of stories that are laid out, tied up, unravelled and strewn together in 'EPHRATA'.
Written in a burst of a few weeks whilst living in northern Colombia, the songs deal with a diverse range of themes, from PTSD and technophobia, to larger questions about time, love and death in the modern age. Balanced with an even more diverse palette of sounds, from south american rhythms, banjos and accordions to crunching beats, found-sounds, loops and whistling, he has created a stormy world that swirls and shifts your perspective like a dream that lingers on long after you've woken up.
'Understated and exaggerated, thought-provoking and reflective, constantly keeping the listener on their toes' - Golden Plec
Prodigious, eclectic, original, unpredictable, well-produced... Stop me when the kettle's boiled' - Cultureni
'Hands down one of the most-forward thinking folk artists from these shores' - The Thin Air
'There's an indefinable quality and charm to Joshua Burnside's debut' - The Sunday Times
'It makes you glad to have a pair of working ears' - Phil Taggart, BBC Radio 1
'It is an endless adventure, a record that won't tire, such is the depth and scope of what you hear' - Daily Mirror
'Dynamic and wide ranging in scope but stands as a complete and focused work. The end result is a triumph' - Chordblossom