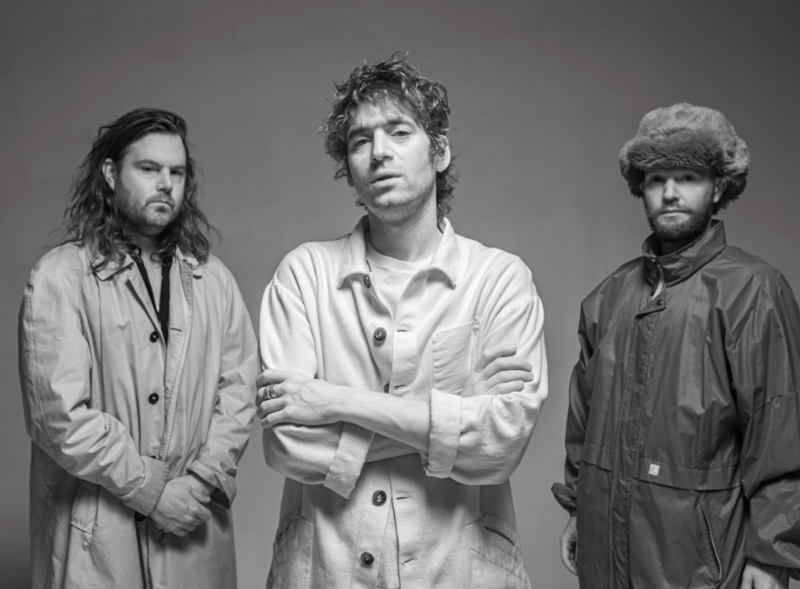 Suuns
+ Kee Avil
£17.50
Entry Requirements: 18+
Buy Tickets
PLEASE NOTE NEW DATE, ALL TICKETS REMAIN VALID
Those of you who are familiar with films like The Wizard Of Oz and The Prestige might relate: the mechanics behind the magic can be just as compelling as the smoke and mirrors themselves. Just ask Montreal outfit SUUNS. As a band who have been around for thirteen years and toured all corners of the world, there comes a point where the veil needs to be fully lifted. Up till now, the experimental rockers have revelled in mystery like a silhouette disappearing into the mist, putting out albums that rest comfortably in ambiguity, detachment and innuendo. But lately, SUUNS appear to be more comfortable coming clean with their own inner workings. "This is a very geeky thing," singer/guitarist Ben Shemie delineates. "But we never really commit to a certain kind of tonality. Whether it'd be major or minor, there's always a certain kind of evading of what your own expectation is."
Nevertheless, SUUNS' fifth full-length album The Witness – their first for Joyful Noise Recordings – once again marks a shrewdly offbeat left turn. The tried-and-true narrative for a band of this nature is always to 'move to the deep end' or 'out of the comfort zone'. In some ways that rings true on The Witness, though one could say these eight movements actually show SUUNS in their most comfortable, candid state. Self-recorded and self-produced over the majority of 2020 – a year of strife, solitude and reflection –, The Witness finds the band holding a magnifying glass over their own default state of playing and performing. It's a swift departure from previous album Felt, which exults in harvesting haphazard ideas in their embryonic, demoed versions, as if letting loose a glorious fireworks display into the heavens.
The Witness, meanwhile, pours SUUNS' music into a more intricate mold, compelling Shemie to unravel himself lyrically in a much more pronounced fashion. "There's something interesting about the idea of a collective witness, being a witness to the time we're living in now," he reflects. "And the connectedness of what we all have in common. But also, literally: bearing witness to all sorts of things and how that desensitizes you. There's a recurring line that comes back on the record: "I know that you've seen it too." A song like 'Clarity' is also about pulling the veil off and seeing things for what they really are. It kind of comes down to being true to yourself and acknowledging what is and isn't real."
Opening cut 'Third Stream' experiments with jazzy brass and prowling piano flourishes akin to Talk Talk's Spirit Of Eden, sounding like a band being profoundly present, being a witness to themselves in some respect. "These songs are a little more expansive-sounding", drummer/percussionist Liam O' Neill comments, "And I can imagine that if we get to play them live, they'll probably be even longer. But that was the general idea, to the extent that we never have an intentionality behind what kind of record SUUNS is going to make. After Max (Henry) left, being ten years in the game, we felt a little bit exhausted by that endless album/tour cycle. Night after night, we realized: 'We're really just playing a bunch of songs.' With The Witness, we tried to do something a little more immersive and longform. That's the reason we always loved playing 'Edie's Dream', because it's like a whole environment you step into. Or just incorporating drones we freely improvised. Those moments were always our favorite parts during live sets. It felt like both us and the audience were part of this whole wave that was happening."
Perhaps unintentionally, SUUNS have always been a strangely intimate band, and with The Witness, they themselves became aware of the extent of this. More than ever, SUUNS keeps those spontaneous moments in the album recordings. "We just do that more improvised stuff so naturally live," Joe Yarmush adds. "It's kind of weird that it hasn't been a big part of our albums up till now.. We're trying to embrace that side of the band for sure. That's also part of SUUNS just being the three of us now." Though Max Henry had left the band in 2018, he still contributed material to the album, most notably on 'Witness Protection'. O' Neill: "Max is such a brilliant musician, but it became clear he wasn't into the touring lifestyle anymore. He wanted to go back to school; right now he's studying music psychology. Which is much more of what he's supposed to do."
With one member down and Shemie now living an ocean apart in Paris, a fresh challenge manifested for the trio to find each other again, both socially and creatively. More than any other SUUNS record, The Witness employs a jazz mentality of designing a continuous vibe over the notion of separate chapters. There's a level of relaxation, of accepting the band's primal instincts, and a concentrated attempt to maximize and revise said instincts. Yarmush:"It was a conscious decision to make the album sound like one song. We wanted to calm down a bit, even during the mixing process: our notes were simply 'you have to settle down'. I couldn't technically explain what I meant by that, but the songs needed to settle down. We were basically trying to hold back all the bombastic tendencies and make things sound very subtle."
The ethereal 'Timebender', which materialized out of vastly disparate parts, still entertains the idea that you're tapping directly into the band's inner pulse. 'Go To My Head' captures SUUNS at its most outright gorgeous, albeit habitually elusive. "Those guitars at the beginning are very much classic rock, definitely a Fleetwood Mac 'Albatross' kind of vibe," Shemie comments. "I wanted to put that song out last, but I was voted out. It was difficult to put together, because we put a lot of material into this song. It wasn't like learning three chords and a beat. There are a lot of different parts. Ultimately, it came together beautifully. I'm very proud of that one."
Though the world is becoming a more distorted, confusing place, The Witness extends a sonic lifeline to latch onto, one bolstered by years of friendship, chemistry and trust. For a band known for its cryptic magnetism, this album marks SUUNS' most generous, stripped-down and affecting work to date. Shemie: "There's always this restraint in SUUNS: the question of 'how long can we hold off?'. I think it's beautiful that way because it always brings out something unexpected. But if you're willing to stick with us – at a show or through our music in general – it will pay off. It might take a while to get there, but we will drop a beat for you eventually. I love that we've been able to stick to the minimal side of things, and just let it breathe."
Line Up
Led by Montréal producer Vicky Mettler, Kee Avil combines guitar, voice, electroacoustics and electronic production to create song assemblages that teeter on the edge of collapse while oozing forward, like sticky resin picking up and shedding disparate elements along the way.
Kee Avil evolved from playing guitar with broken cymbals and drumsticks to forging askew tempos and templates glued together by samples of screws dropped into crystal bowls. Her self-titled debut EP, released in 2018 on Black Bough Records, harnessed her improvised music and prepared guitar background toward a newfound structural sensibility and arresting vocal/lyrical experimentation; she has been immersed in the exploration of distinctive compositional architectures ever since, expanding her sonic palette with increasing and intensive detail, where twitchy, finely wrought postpunk electro-industrial avant-pop songs are meticulously assembled to resemble disassembly.
Honed through pre-pandemic tours in North America and Europe (sharing stages with Marc Ribot, Pere Ubu, Bill Orcutt and Fly Pan Am, among others), Kee Avil's emerging body of work signals a vital, viscous, virtuosic new voice in experimental songcraft–where touchstones include Juana Molina, Scott Walker, Fiona Apple and Eartheater; where PJ Harvey meets Pan Daijing or Grouper melds with Autechre.
Kee Avil's debut album "Crease" was released by Constellation on March 11th, 2022.