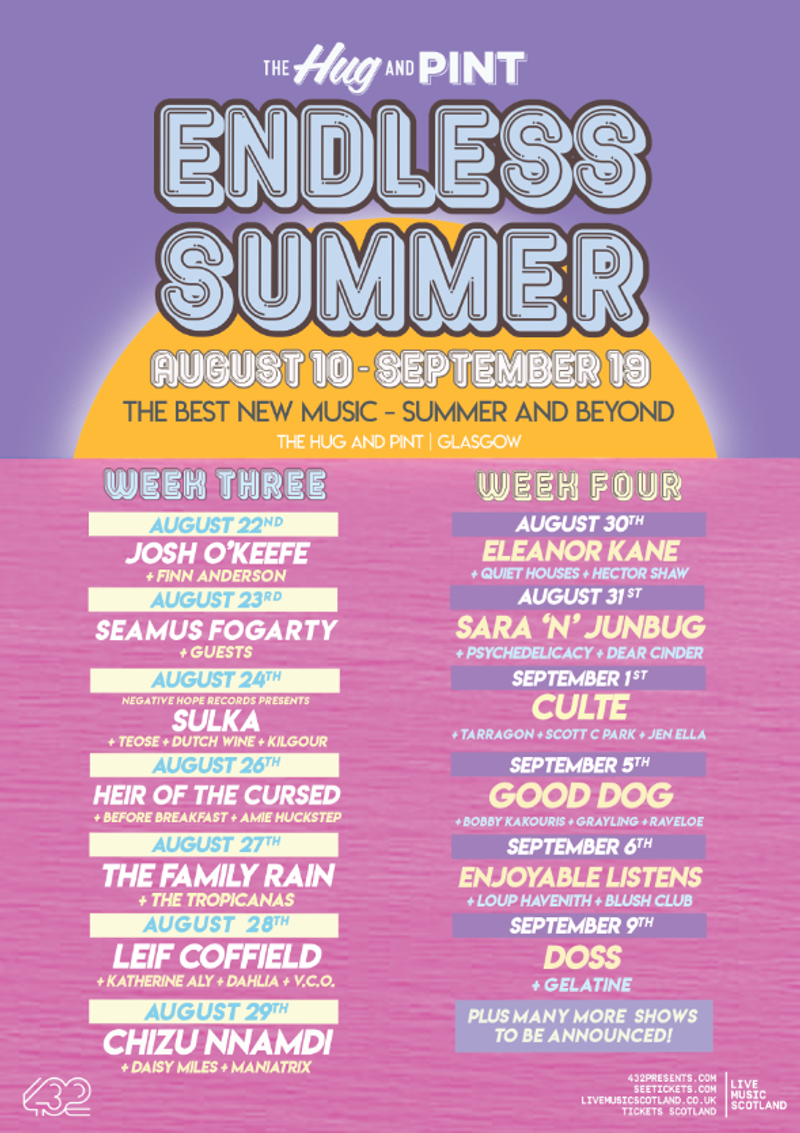 Endless Summer: The Family Rain
The Family Rain + The Tropicanas
£10
Entry Requirements: 18+
General Admission (e-ticket)
The Tropicanas (e-ticket)
Please select the artist you are coming to see. All tickets are valid for the full show.
A celebration of live music and the best new artists in Scotland.
The Hug & Pint, 10th August - 19th September 2021
Line Up
The three brothers from Bath, fuse blues and rock with the close-knit energy and intricacy that runs through brotherly bonds. Releasing their Jim Abbiss produced debut album Under The Volcano in 2014 - it was full of iron riffs, innovative percussion, and clever wordplay that pulled their classic rock afflictions into juggernauting modern day grooves.
Live they are something else – a three pronged attack of ferocious sound blended with insidious melodies. They exhude a noise and intensity that could only be produced by three brothers who know each other inside out. The band is raring to go with their as-yet-untitled new album, recorded at Rockfield Studios with producer and close friend Tom Dalgety (Royal Blood, Turbowolf). Once more, The Family Rain's nagging melodies combine with heavy, metallic riffs to produce searing rock music of intelligence and wit.
"Exhilarating to the very end." - NME
"Sounds all right? No, sounds absolutely bloody brilliant. Tell everyone." - Sunday Times
"Brothers from Bath making bluesy rock n roll and predicted to pack out festivals pretty soon." - i-D Magazine
"…a scuzzy, Kings-Of-Leon-before-they-were-massive-style take on sleazy blues rock." Q Magazine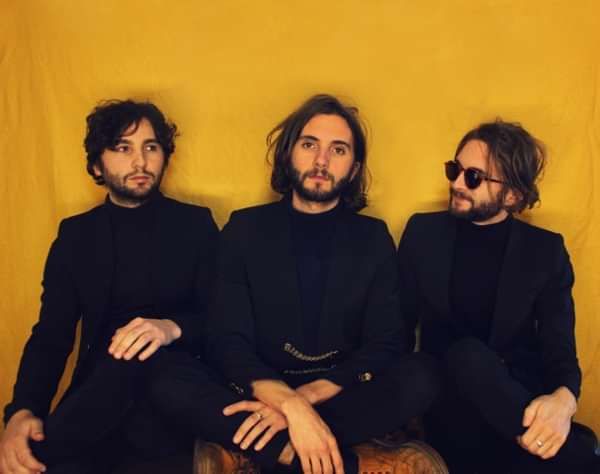 The Tropicanas are West Lothians Jangle Pop Pioneers.
"A Dreamy, hazy off-kilter take on indie rock, It ushers you into their reverb laden woozy world" - BBC's Vic Galloway on 'Calypso Kool'
                                                                                          ~

Ironically named due to Scotland's often gloomy weather and their desire for warmer climates and surfier times, The Tropicanas represent West Lothian with their off kilter brand of chilled grooves!
Extremely hands-on; writing, recording and releasing music independently, as well as creating their own artworks and videos. The Tropicanas combine inspirations from modern bedroom recorders, such as Mac DeMarco, Stevie R. Moore and Tame Impala, With Bossa Nova legends such as Jorge Ben Jor and João Gilberto: creating a unique Lo- Fi sound.
The Tropicanas burst onto the scene in 2015 and have been attracting an impressive range of admirers including Tom Ravenscroft (BBC Radio 6 Music), Roddy Hart (BBC Radio Scotland), the Daily Record and Song By Toad, featuring on the Song By Toad vinyl compilation 'Eton Mess'. 'The Trops' have also been blessed to share the stage with acts such as Neon Waltz and Peach Pit, as well as playing the Pyramid Stage at the amazing Kelburn festival.
'Calypso Kool', recently released as the first of 3 singles for their upcoming E.P of the same name (Coming in August), has been well received and gained national airplay on the BBC from Emma Lamont, Phoebe I-H and Shereen Cutkelvin (Tipped by Vic Galloway) as well as Amazing Radio's Jim Gellatly and Charlie Ashcroft.