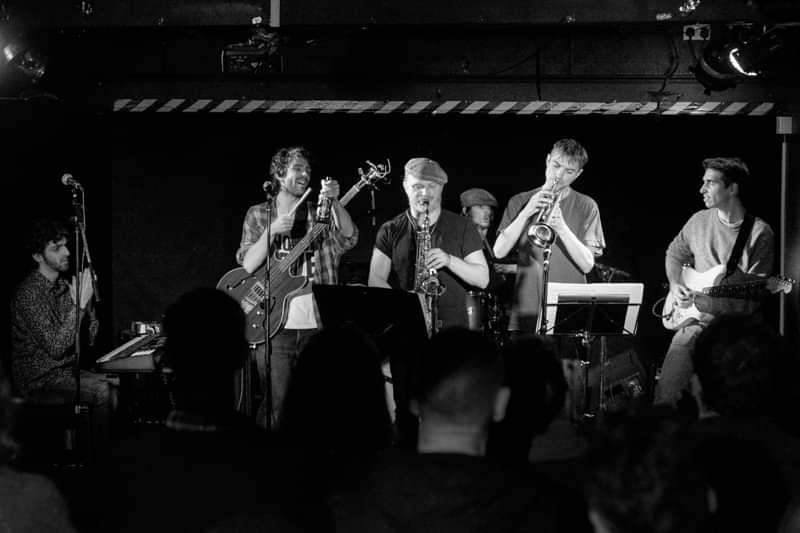 GJF: Nimbus Sextet
Glasgow Jazz Festival: Nimbus Sextet + DJ Malcolm McKenzie
£11.50
Entry Requirements: 18+
'Beautiful new music' - Colleen 'Cosmo' Murphy, Worldwide FM
The brainchild of keys/harmonica player Joe Nichols, Scottish contemporary jazz six-piece Nimbus Sextet have gained attention for their organic blend of jazz, hip-hop and world music elements & their infectious approach to melody and groove. Fresh from supporting Gilles Peterson and their debut single 'Seance' being championed by Worldwide FM's Colleen 'Cosmo' Murphy in 2018, Nimbus Sextet make their Glasgow Jazz Festival debut in what is fast becoming a very exciting 2019 for the band.
Featuring some of the most creative players from the Glasgow and Edinburgh scenes, Nimbus Sextet are a contemporary jazz group playing original music that spans the jazz & world music spectrum. Marrying Afro-Cuban, West African & Balkan influences with post-bop and hip-hop, their music channels a unique rhythmic energy and interlaces this with rich melodic ideas and captivating improvisation.
Joe Nichols (Keys, Piano & Harmonica) Mischa Stevens (Bass)
Martin Fell (Alto & Soprano Sax, Clarinet) Alex Palmer (Drums)
Euan Allardice (Trumpet) Manuel Brazuna (Guitar)
https://nimbussextet.bandcamp.com/releases
DJ Malcolm McKenzie (BIG BREAK RECORDS), one half of Glasgow's Hustlin'' will be spinning a set of jazz fusion, nu-jazz, soul jazz and more to open the show.
Line Up
Glasgow Jazz Festival: Nimbus Sextet