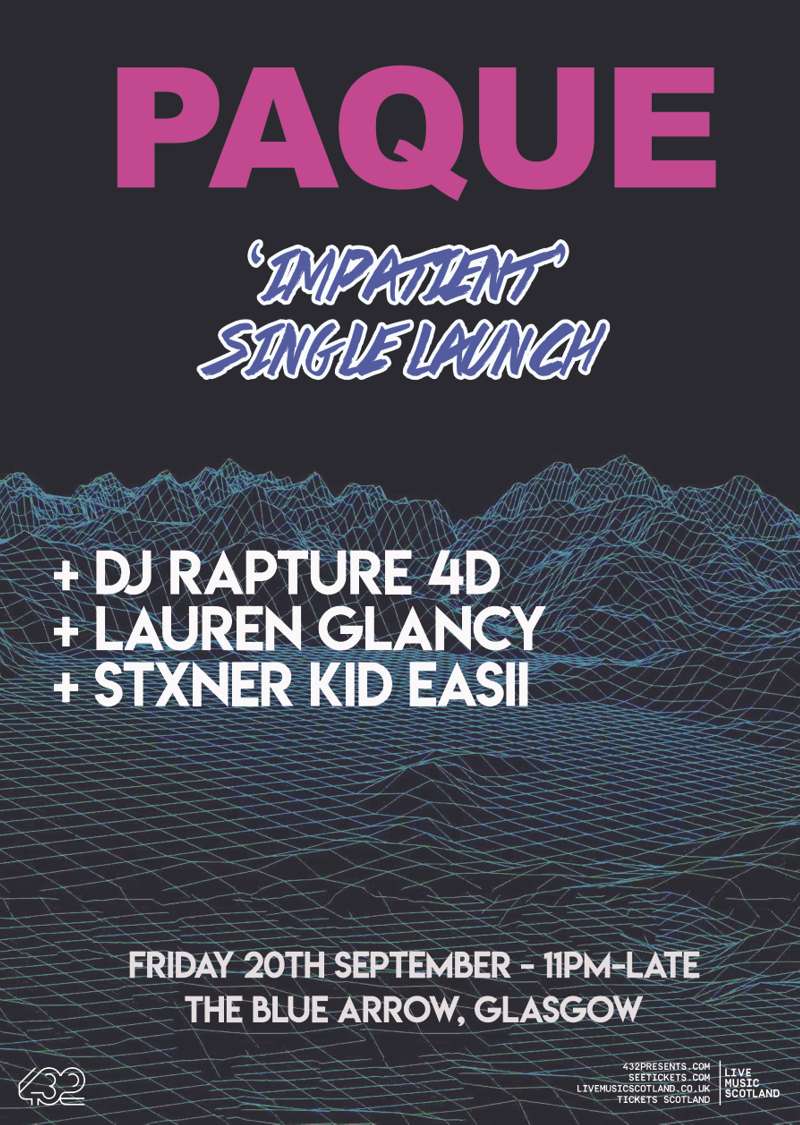 Impatient Launch Night
PAQUE + Rapture 4D + Lauren Glancy + Stxner Kid EasiI
£8
Entry Requirements: 18+
The Blue Arrow Presents Impatient - Launch Night Paque + Lauren Glancy & Stxner Kid Easii + Raptor 4D 11pm Doors Tickets on Sale Now > https://bit.ly/2MinukA
Congo made, Scotland bred, Paque, is one of the UK's most exciting, rising talents in Grime and Hip Hop. Through the last few years, Paque has built a strong reputation for performance, as well as his artistic work. Supporting international artists such as; AJ Tracey, 67, Hopsin, The Game, ASAP Nast, along with many other great acts. Being easily recognizable by his signature deep voice and stage presence, Paque's plans for the future is to continue creating more exciting music, and to perform at bigger stages and festivals. After making his mark on the local seen with his release, Denzel, back in 2016, Paque is ready to begin the next stages of his exciting career, starting with his brand new single, Impatient, premiering on the 9th September 2019.
Line Up
Peter Masambuku (born June 30, 1997), known formerly by stage name Paque - pronounced (Pack), is a Congolese born British rapper, songwriter and producer. Born in the capital city of Congo, Kinshasa, PAQUE only lived there for 5 years before moving to the United Kingdom with his mother.
Upon arrival to the U.K. PAQUE and his mother were staying as asylum seekers, living in a hotel before being granted rights to stay in the country. During this time he would visit his family in London, England, where he developed an ear for music and street culture. PAQUE's cousins would introduce him to rapping as well as an array of Hip Hop, Grime and occasional Rock. When PAQUE then moved to Glasgow, Scotland around 2002 he started school and life in general in Scotland's largest city. He would then find his passion for music at the age of 13, when he started to gain a lot of popularity and attention because of his deep voice and resemblance to UK Rap legend, Giggs. The comparisons led PAQUE to do impersonation freestyles of Giggs' tracks, which caused some buzz around the city but PAQUE wasn't content with living in another man's shadow, thus creating and practicing his own tracks - which he found created an even bigger buzz.
Late 2013 PAQUE and affiliates recorded and released their first ever track and released it on Youtube, entitled "Gyal", this track was the first track that would help push PAQUE in the right direction. The song, although he would admit irritates him, at the time it was the talk of the town, kids his age were on board and encouraged him to pursue a career in music. After the first track was out PAQUE would go on to release many tracks onto online streaming service Soundcloud, where he would build up his fanbase and staple himself as a force in the Scottish Hip Hop/Grime scene.
PAQUE has collaborated with a number of artists both overseas (United States of America) such as BOREGARD. and Majorino and with local MC's as well, like Aberdeen's Ransom FA, I-D of MFTM and MNDGONE (group), with many more features in the works.
PAQUE has performed all across Scotland from Glasgow to Stirling to Edinburgh, opening for a number of big English Hip Hop/Rap acts (67, AJ Tracey, Fekky, Not3s..) and A$AP Nast (of A$AP crew). He has also arranged his own launch party for his EP #MUSE, 2016, run by Forij (PAQUE is part of a creative collective called Forij, he operates as the Rapper).