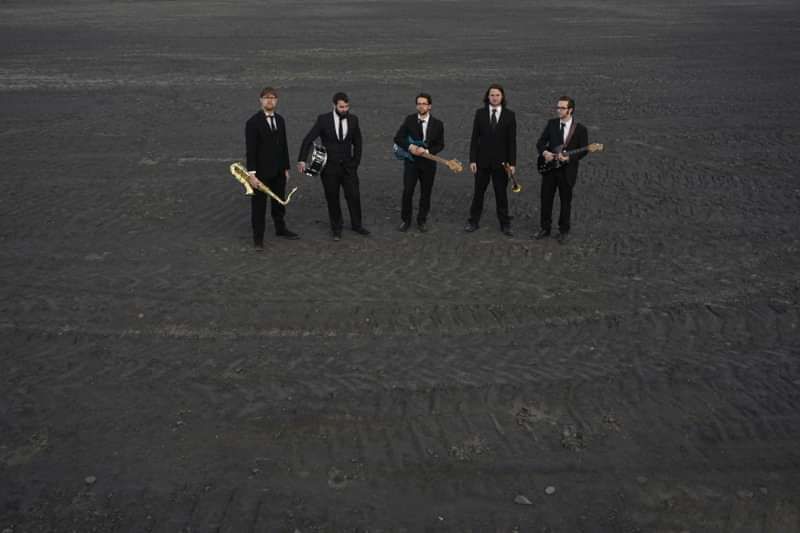 Thunkfish
+ Trio TYR
Thunkfish play PTHRONK: which, to them at least, is a tight yet unpredictable blend of jazz, punk, thrash, prog and funk. It is born from the eclectic influences of five musicians who grew up across Scotland listening to Metallica, cut their jazz teeth on The Headhunters, and make their living playing intense funk to late night audiences. In one moment they play head-nodding, infectious grooves, escalating to mosh-pit intensity, while in the next moment they are rhythmically ambiguous and expansive.
Definitely occupying the heavier end of jazz, Thunkfish is built on strong riffs, dense soundscapes, duelling horns, sludgy guitar and ferocious drumming, combined with samples from 1950s sci-Fi shows on American public radio to create an abstract, instrumental sci-fi concept album of sorts…
A two-horned front line of Tom Pickles & Charles Dearness (saxophones/trumpet) are backed by a power trio of Jed Potts (electric guitar),Tom Wilkinson (electric bass) & rising star Graham Costello (drums). The sixth member of the live band is a set of disembodied voices in a black box, channelling the dark future predicted by 1950s science fiction radio plays
Following an early EP and festival performances at Edinburgh, Aberdeen and Torino Jazz Festivals, Thunkfish released their debut album "Renegades' in 2017. They return with new material in 2019 following a hiatus during which powerhouse drummer Graham Costello has risen to one of the hottest names in Scottish jazz.
"grabs you by the lapels and just doesn't let go..." Stephen Duffy, BBC Radio Scotland - The Jazz House
Trio TYR
TrioTYR are a relatively fresh addition to Glasgow's growing, creative music scene. Consisting of Cameron Thomson-Duncan (Trumpet/FX), Tom Stephenson (Guitar) and Greg Irons (Drums), the trio perform original compositions that draw inspiration from Scottish and Scandinavian natural landmarks.
Influenced greatly by the incredibly melodic Scandinavian folk/jazz crossover, trioTYR create live sonic soundscapes through use of effects, improvisation and riff-based tunes.